english below
Heute hat die Polizei unsere Plattform zerstört. Wir haben sie gebaut um auf ein Straßenprojekt (Tangentiale Verbindung Ost) hinzuweisen, welches je nach Bauform 15 bis 7 Hektar Wald zerstören möchte. In Zeiten von Artensterben und Klimakrise darf so etwas nicht geschehen.
Wir haben die Plattform auch gebaut um einen queeren Ort zu schaffen, gegen Diskriminierung, ein Ort zum sich sicher fühlen.
Bildet Banden. Organisiert euch selbstständig bzw. über andere Gruppen/Plattformen und/oder kontaktiert uns.
Über die Räumung haben wir über unseren Microblogging account bereits informiert.
Hier z.B.: https://eldritch.cafe/@queerstelle/106573698155962659
Dort werden neue Ankündigungen als erstes scheinen. Folgt uns also gerne unserem mastodon account.
Einen ausführlicheren Blogpost wird es morgen/übermorgen zu lesen geben.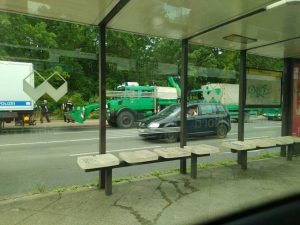 Presseschau: Heute hat die Taz einen Artikel über uns veröffentlicht. Dieser beinhaltet noch nicht die Räumung. Lesen kannst du den Artikel hier:
Kleines Baumhaus gegen große Straße
——————————————————————————–
Police destroyed "tree house"
Today the police destroyed our platform. We built to raise awareness about a street construction project (Tangentiale Verbindung Ost), which wants to destroy 15 to 7 hectares of forest, depending on the type of construction. In times of species extinction and climate crisis, such a thing must not happen.
We also built the platform to create a queer place, against discrimination, a place to feel safe.
Build affinity groups. Organize on your own or through other groups/platforms and/or contact us.
We have already informed about the eviction via our microblogging account.
Here for example: https://eldritch.cafe/@queerstelle/106573698155962659
New announcements will appear through our mastodon account first. So feel free to follow there.
A more detailed blogpost will be available tomorrow/the day after tomorrow.